Eddsworld
is a British flash series created by Edd Gould in 2004. The series has currently aired 32 episodes. On 25th March 2012, Edd Gould died after a six-year long battle with cancer at age 23. All the characters are voiced by their real-life counterparts.
Main Characters
Edit
There 3 (formerly 4) main characters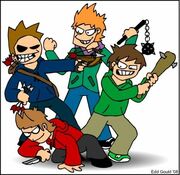 Edd (voiced By Edd Gould (2004 - 2012), Paul ter Voorde (2012 -) is the main protagonist of the series. He wears a green hoodie and is obsessed with Coca Cola and bacon.
Tom (voiced by Thomas Ridgewell) is one of Edd's friends, who is notable for not having eyes (although he still has vision). He has brown spiky hair (which he calls Steve) and a bass guitar (which he calls Susan). He is also alcoholic, and his favourite drink is Smirnoff (specifically non-diet). He also has a hatred for Christmas, and is the most popular charcter of the series.
Matt (voiced by Matthew Hargreaves) is Edd's other friend and wears a purple hoodie (originally black) with a green jacket, or a purple T-shirt by its. He is also the only one who has ginger hair and a square chin. He is known for being an egomaniac, being obsessed with his looks, even as far as being attracted to his own appearance (even making a sex tape with a clone of himself in the episode Movie Makers and also saying that his most important thing was a picture of himself in WTFuture) and the least intellectual of the group (being mentioned in the Eddsworld Theme Song that "He's got the intelligence of a kitchen shelf"). He is also known for saying "Not the face" when an object threatens to hit him and says "indubitably" as his catchphrase.
Tord (voiced by Alex Labbe (2004–2005), Tord Larsson (2005–2008), and Edd Gould in Zombeh Attack 3) wore a black jacket in the first episodes and later wore a red hoodie or T-shirt. He, like Edd, was shown to have an interest in bacon, as shown in Eddsworld: Morning. He was known for being the most violent character, and was often the first to pull out a gun and use firearms, and in Behind the Scenes of Eddsworld first showed his dislike for Tom, and his interest in hentai. He also apparently hates the song Sunshine, Lollipops, and Rainbows by Lesley Gore. He is also the only non-British character, as he hailed from Norway. He has not been in an Eddsworld video since 2008 as he left the series in the episode "25 feet Under the Seat." However, he has made cameos, including in WTFuture, where he appeared when Future Edd went back into the events of Zombeh Attack.